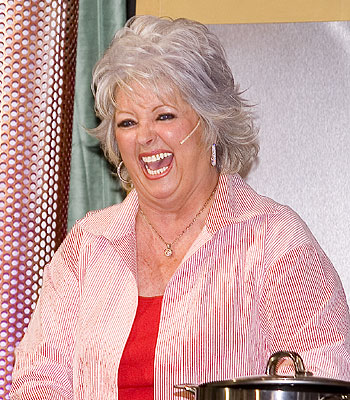 Paula, you make us puke: Celebrity chef Paula Deen has been very good for her sponsor Smithfield Foods, and the company, aka the Death Star of Pork, has been very good to her in return. She's entirely unfazed by how it treats its workers, whose union has staged protests at her appearances — and although this article doesn't go into it, also has no problem with the company's vile environmental and animal-welfare track records. The most galling thing is, she's increasing their sales. A lot. Money quote, from a deluded fan: "Paula has character; she has ethics. I don't think she would associate with an organization like that." Time to start leaflet-bombing her appearances with this Rolling Stone article on Smithfield? (The Virginian-Pilot)
From asphalt to zucchini: A lengthy, well-reported look at the urban-farming and food-justice movements in cities across the country, and the issues these successful community gardens face. (In These Times )
For further Pollanation: Michael Pollan, whose new book "In Defense of Food: The Myth of Nutrition and the Pleasures of Eating" is due out in November, tells Newsweek which books influenced him, and over at Trivalley Magazine, chats with his UC Berkeley J-school colleague Marcia Parker about what he's growing in his garden.
SoCal local: San Diego is getting into school programs modeled on Alice Waters's "Edible Schoolyard" program, in which urban teens — many of them immigrants — learn to grow and prepare their own healthful foods. (SignOnSanDiego.com)
Hugh-tiful dreamer: Culinate has an excerpt from the introduction to "The River Cottage Meat Book" by Hugh Fearnley-Whittingstall, the cookbook/reference book we most need to own right now. Titled "My Meat Manifesto," the essay asks some very meaty questions. Related: In the Guardian last weekend, HF-W penned a paean to native British plums — "every bit the equal of those lauded Mediterranean fruits, the peach and the fig."
Good news for Canadian winemakers: Global warming has blessed cool-weather wine regions with record vintages. But while savoring their gold-medal wines, viticulturists are looking to the future — and it isn't pretty. (Salon)
Ponds of progress: The WorldFish Center is working with 1,200 poor AIDS-impacted families in Malawi to build freshwater ponds for fish farming. The ponds are part of an integrated agricultural system: crop wastes can feed the fish, and organic material from the ponds can be used as fertilizer. (Reuters)
Following their own dirt path: The newest crop of farmers comes with college degrees and no farming past. (Associated Press)
McDonald's switching to grassfed beef: Ha, got you. But the Golden Arches are indeed going upscale, at least in Europe, with designer furniture, Wi-Fi, and fast food versions of local dishes. (New York Times)
Driving yourself local: A funny piece about reading all of the current locavore tomes and the pressure to can, can, can for the winter. (AlterNet)
Litter mates: Scientists and state officials have teamed up to cut phosphorus levels in lakes and streams in Delaware, one of the top 10 poultry-producing states in the country, by getting farmers to cut down on the amount of phosphorus in the birds' food. (Plenty Magazine)
Huh?: The New York Times' Science section attempts to answer whether seaweed consumers should be concerned about arsenic levels in hijiki, but leaves us no wiser.
Berkeley farmers market turns 20 (Oroville Mercury-Register)