Praise Jesus. And call Oprah!: Parade magazine — mainstream America's bible — has a story on seeking out locally grown foods for Thanksgiving. Now if we can just get him and her and (might as well dream) her to endorse locavoreanism and ethicureanism, we'll be set.
For whom the label tolls: The supermarket brand of ethical consumerism is only as good as the folks certifying the goods. Here's a tough look from a financial newspaper, of all places, at the Rainforest Alliance (which could demand higher prices for the coffee it certifies, and for allows pesticides), Utz (called a front for industry backers), and Quality Assurance International, or QAI, which "has been called a flag of convenience for large-scale agribusiness"…like Aurora Organic dairy, say. (Barron's Online)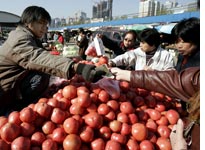 "We say tomato; they say 'foreign eggplant'": The story of how China's tomato industry has grown to eclipse all but California's and Italy's, despite the fact that the Chinese themselves shun tomatoes and in the words of an Italian visitor to the fields, a "sheety tomato is a sheety tomato." (Slate; gracias Irene)
"Better Agriculture Through Cosmic Rituals": Novella Carpenter has a rollicking profile of the Live Power Community Farm in Northern California and the biodynamic movement, which as one agricultural theorist writes, "makes typical organic farming look like strip mining." (Mother Jones)
There must be money in it somewhere: Forbes business magazine's special report on food is half edible. Check these out: how to measure the size of the food industry (fun factoid: China's average [daily] calorie count is 2,500 [per person], whereas in the U.S., it's 3,500 or higher); recycled buying-local-is-a-fetish opinionism (someone did not see this guest post of ours about that New Zealand study), and a review of "The Year of the Goat: 40,000 Miles and the Quest for the Perfect Cheese."
Poached elk for breakfast: The Oregon State Police confiscates elk and other meat from poachers and donates it to the food bank — poachers pay for the butchering and wrapping costs — and to those with food allergies. Fascinatingly, the latter include a senior who eats the game meat mainly because it contains no hormones or antibiotics, unlike most commercially processed meat. (The Bend Bulletin)
Live Freegan, try hard: A Marketplace reporter goes trash trick-or-treating for food. These guys should start charging reporters and tourists for these Dumpster-dive-alongs. (Marketplace)
Feast or famine: Grist tries to calculate how much an organic Thanksgiving dinner would cost versus an industrial one (we refuse to use the "conventional" convention). Any one else regularly find Roz Cummins kind of clueless? Someone should tell her about "access to the outdoors" in organic. (Grist)
Good for the planet is good for PR: Frito-Lay is trying to turn a midsize potato-chip plant in Arizona into a carbon-neutral operation. Call us when it switches to organically grown potatoes and corn — and stops making junk food. (New York Times)
Honeymoon's over for ethanol: New ethanol plants are facing NIMBY opposition in the Midwest. The biggest complaints are not about their energy efficiency, but about possible increases in noise, traffic, odor, emissions and demand on the water system. (New York Times)
Feeling peckish?: Marion Burros discovers tasty pastured eggs at Fishkill Farms, owned by Manhattan district attorney Robert M. Morgenthau. (New York Times)
Returning urban salmon provide a thrill and a lesson (Seattle P-I)